Arion Press pairs great artists with great literature to create beautiful books by hand. We publish several limited editions every year, each conceptually unique. Some are accompanied by separate editions of original prints. Our production facility includes a letterpress shop with a historic collection of typefaces, a type foundry operating machinery from 100 years ago, and a complete hand book bindery, housed in a 14,000 square foot industrial building in San Francisco's Presidio National Park. The Press is supported by the 501(c)(3) non-profit Grabhorn Institute, designated an "irreplaceable cultural treasure" by the National Trust for Historic Preservation. Tours of the Press are held every Thursday at 3pm, by reservation. The Institute sponsors an annual series of public talks, events and gallery exhibits at the Press.
New Deluxe Binding of Rudolf Koch's Christian Symbols
In 1996, Arion published a new edition of Rudolf Koch's Christian Symbols, a large and important collection of 158 historic religious emblems and the outcome of years of research by the Offenbacher Werkstatt, an arts-and-crafts group that produced many sacred objects for use in the Christian Church. Issued in Germany in the mid-1930s as a source-book for artists, designers, and scholars, this essential reference tool had long been out-of-print. The Arion edition reproduced the original woodcuts from polymer plates thereby returning the symbols to circulation, and our bookbinders have recently designed a deluxe binding for the book in an edition limited to 30 copies, now available on our store.
November 20 Reading: Norma Cole
Please join the Grabhorn Institute and Arion Press on Wednesday, November 20 at 6:30pm for a poetry reading by Bay Area poet, visual artist and translator Norma Cole. Her awards include the Fund for Poetry, Gertrude Stein Award, the Richardson Award for Non-Fiction Prose and the Wallace Alexander Gerbode Foundation Award for Poetry. Her visual work has been shown at the Miami University Art Museum, [2nd floor projects] in San Francisco, "Way Bay," at the Berkeley Art Museum and most recently her film, "By the Turning Bridge," at NIAD, Richmond, California. The reading will be held in the gallery; refreshments will be served. More information is available on the Events listing here.
Announcing Horace's Odes, Book II
The second book in our Subscriber Series will be a collaboration between writer and translator Michael Taylor and San Francisco photographer Dennis Letbetter. In 1992, the late Jack Stauffacher published an elegant edition of Book I in Taylor's translation at his Greenwood Press. Taylor has since finished his Horace translations, and we are pleased to pick up where Jack left off and include the photography of one of his close and long-time associates, Dennis Letbetter. Publication is anticipated for November.
In the Gallery: Ashwini Bhat and Forrest Gander
On Friday, September 6 we celebrated the opening of "Interior Landscape", an installation featuring the works of ceramicist Ashwini Bhat and 2019 Pulitzer Prize winner Forrest Gander. The exhibition is open during regular business hours through November 26 and is free to the public. On Tuesday October 15 Ash will host an artist talk and walk through at 6:30pm. RSVP here.
Limited edition broadside
To commemorate the exhibition, we printed a broadside of Forrest's poem "Immigrant Sea" incorporating artwork by Ash. The broadsides are handset in Cushing Antique and printed damp on seconded sheets of Barcham Green, originally handmade for the 1979 Arion edition of Moby-Dick. All copies are signed by the artist and poet. The edition is limited to 75 copies for sale and is available to purchase directly from our website, by phone or in person.
We were honored to be featured by the Science Channel program "How It's Made" and had a great time demonstrating the letterpress craft and showing them around our shop. Click the image to watch the segment.
Philip Van Aver Greeting Cards
In 1970 celebrated New York artist Philip Van Aver created 20 illustrations for a collection of Mother Goose rhymes, published under the Grabhorn-Hoyem imprint. Now, fifty years later, we are reviving this charming series of drawings for a limited run of personal note cards. 2 boxed sets of 10 different images each are now available in our Store. Philip Van Aver's work is profiled in the August 2019 edition of Artforum, and we are grateful to him for inspiring this collaboration.
Now available: Handmade blank journals
Arion Press is pleased to offer for sale a series of bespoke blank journals, handcrafted at the press. These designs incorporate overages of prints, endsheets, and other ephemeral materials from Grabhorn and Arion projects of yore and make beautiful gifts for bibliophiles, graduates, artist friends—anybody who enjoys a high quality journal to last a lifetime. These are sold exclusively through the press, by phone, in person, and now on our website.
Other news
In winter 2020, the gallery will host a wide-ranging exhibit featuring the artwork of Mexican political illustrator José Guadalupe Posada, accompanied by a screening of a documentary about his storied life, and a docent tour with collector and filmmaker Jim Nikas. Spring 2020 brings a celebration of the life and work of American-Armenian novelist William Saroyan, with displays of his writing and artwork at the press. And in summer 2020, the Institute is honored to be hosting the annual exhibition of the Hand Bookbinders of California.
And finally, check out this August 2019 article in Atlas Obscura, profiling our very own M&H Type, one of the last operational hot metal type foundries in the land.
Follow us on Instagram and Twitter or subscribe to our newsletter for more opportunities to learn about traditional bookmaking processes and the art this rich history inspires.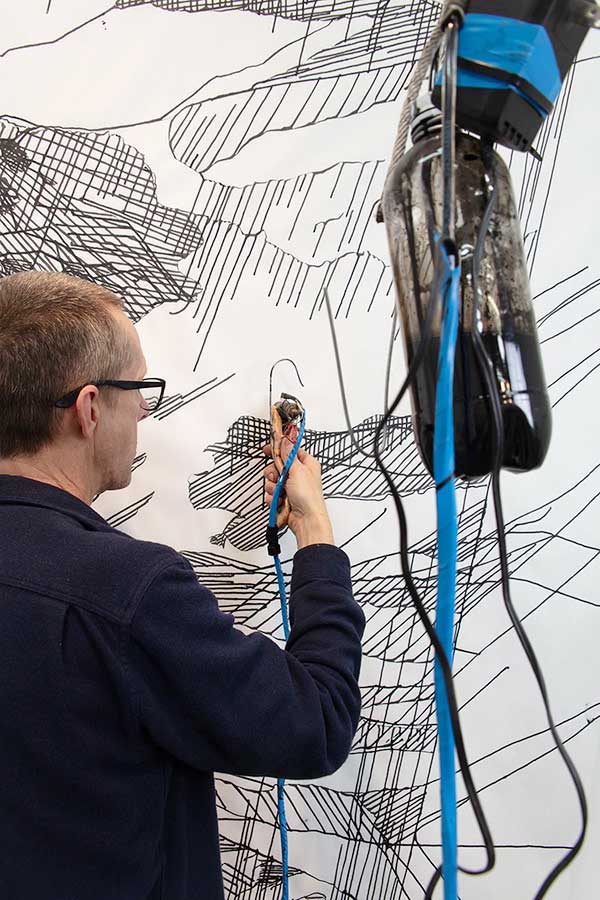 Witness the dynamic processes and century-old machinery we use to create our books. Tours are held most Thursdays at 3pm and last about 90 minutes. The cost is $10 per person, and we recommend reserving your place ahead of time.