Arion Press pairs great artists with great literature to create beautiful books by hand. We publish several limited editions every year, each conceptually unique. Some are accompanied by separate editions of original prints. Our production facility includes a letterpress shop with a historic collection of typefaces, a type foundry operating machinery from 100 years ago, and a complete hand book bindery, housed in a 14,000 square foot industrial building in San Francisco's Presidio National Park. The Press is supported by the 501(c)(3) non-profit Grabhorn Institute, designated an "irreplaceable cultural treasure" by the National Trust for Historic Preservation. Tours of the Press are held every Thursday at 3pm, by reservation. The Institute sponsors an annual series of public talks, events and gallery exhibits at the Press.
2019 has been an exciting year for the Arion Press and Grabhorn Institute, with free events every few weeks drawing crowds of locals and tourists alike—and there's more to come!
Join the Press at the Hosfelt Gallery on Thursday, July 25 from 5-7pm for a release party celebrating the Arion edition of Mary Shelley's Frankenstein with art by Tim Hawkinson. August brings Open Books #6, a celebration of artist books founded by students from the San Francisco Art Institute, with a book fair, performances and an art-making workshop—and we'll launch the fall season with a gallery installation featuring ceramicist Ashwini Bhat and 2019 Pulitzer Prize winner Forrest Gander, who will read at the opening reception on Friday, September 6th at 7pm.
Two Arion Press publications, The Fairy Tales of Oscar Wilde and A Travel Book, are currently on display as part of the Palo Alto Art Center's summer exhibition, "Local Editions: A Celebration of Bay Area Printmaking," on view through August 25th.
Follow us on Instagram and Twitter or subscribe to our newsletter for more opportunities to learn about traditional bookmaking processes and the art this rich history inspires.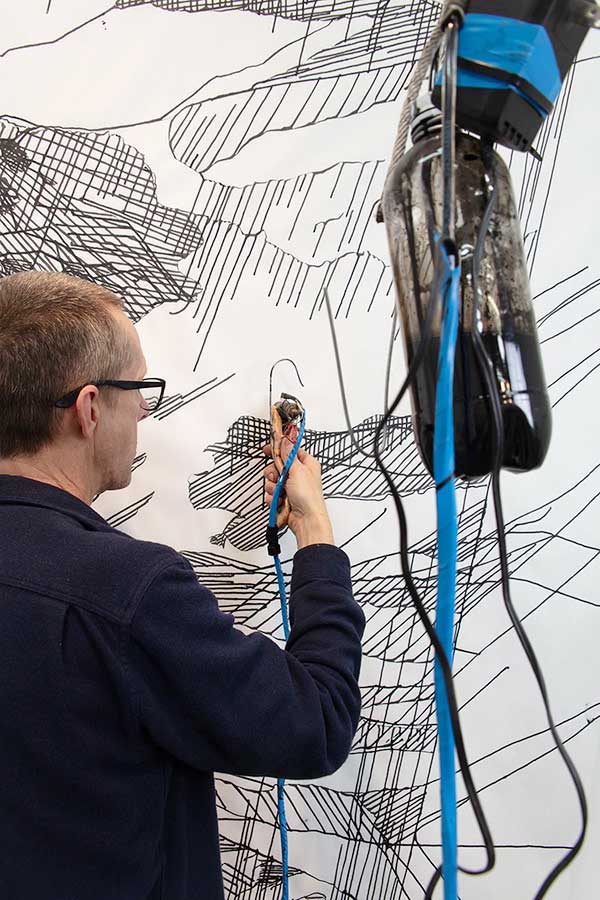 Witness the dynamic processes and century-old machinery we use to create our books. Tours are held most Thursdays at 3pm and last about 90 minutes. The cost is $10 per person, and we recommend reserving your place ahead of time.