Arion Press pairs great artists with great literature to create beautiful books by hand. We publish several limited editions every year, each conceptually unique. Some are accompanied by separate editions of original prints. Our production facility includes a letterpress shop with a historic collection of typefaces, a type foundry operating machinery from 100 years ago, and a complete hand book bindery, housed in a 14,000 square foot industrial building in San Francisco's Presidio National Park. The Press is supported by the 501(c)(3) non-profit Grabhorn Institute, designated an "irreplaceable cultural treasure" by the National Trust for Historic Preservation. Tours of the Press are held every Thursday at 3pm, by reservation. The Institute sponsors an annual series of public talks, events and gallery exhibits at the Press.
Currently on view in the gallery is Open Books #6, a celebration of artist books founded and featuring work by students from the San Francisco Art Institute. The exhibit is free and open to the public weekdays from 9am-5pm. A closing event on Saturday, August 24 from 7-10pm will feature a multimedia book fair (Can a book be a mobile? A giant sculpture?), musical performances, and a printmaking demo.
Arion Press is pleased to offer for sale a series of bespoke blank journals, handmade and crafted in San Francisco. These designs incorporate overages of prints, endsheets, and other ephemeral materials from Grabhorn and Arion projects of yore and make beautiful gifts for bibliophiles, graduates, artist friends—anybody who enjoys a high quality journal to last a lifetime. There are two standard journal formats, and each is bound in multiple unique designs. Journals are constructed with quality 100# text Mohawk smooth white paper suitable for both drawing and writing. All journals contain 160 blank pages. These are sold exclusively through the press, by phone, in person, or soon, by our website. Please contact us directly with your inquiries and orders.
We'll launch the fall season with a gallery installation featuring ceramicist Ashwini Bhat and 2019 Pulitzer Prize winner Forrest Gander, who will read at the opening reception on Friday, September 6th at 7pm. RSVP on our Events page.
Two Arion Press publications, The Fairy Tales of Oscar Wilde and A Travel Book, are currently featured in the Palo Alto Art Center's summer exhibition, "Local Editions: A Celebration of Bay Area Printmaking," on view through August 25th.
Follow us on Instagram and Twitter or subscribe to our newsletter for more opportunities to learn about traditional bookmaking processes and the art this rich history inspires.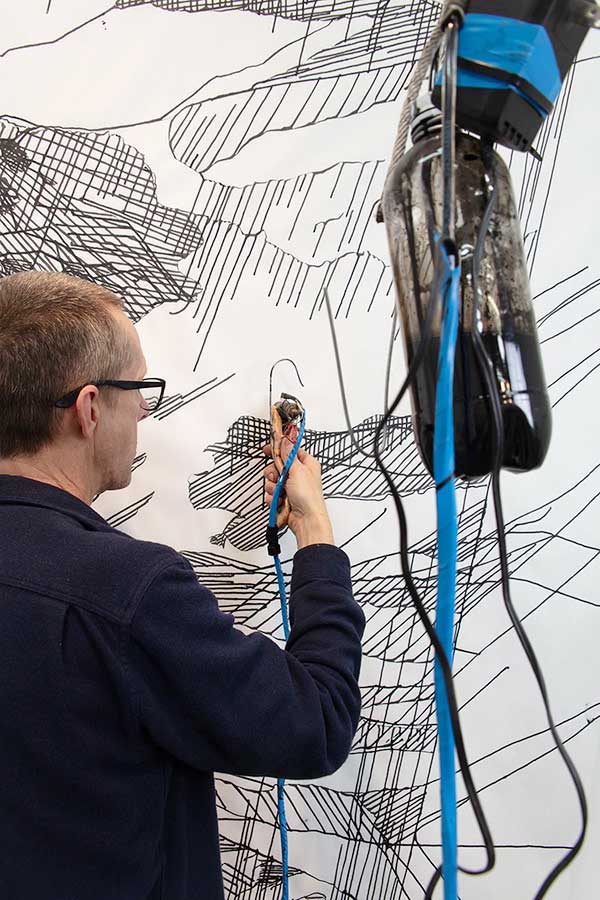 Witness the dynamic processes and century-old machinery we use to create our books. Tours are held most Thursdays at 3pm and last about 90 minutes. The cost is $10 per person, and we recommend reserving your place ahead of time.